What did you do every day after the evening chores were done?  If you were a kid in the late 30's to the early 50's, you probably did what I did - listen to the radio.  First we tuned in to the adventure programs - Superman, Tom Mix, Red Ryder, Gene Autry's Melody Ranch, Captain Midnight, The Green Hornet, anybody remember Bobby Benson and The B-Bar-B Riders or Tennesee Jed?  And of course, the most famous of all - The Lone Ranger.

Remember when you would send the cereal box top and a dime and then hurry home from school every day to see if the latest Captain Midnight Secret Decoder or Lone Ranger Silver Bullet Ring or Tom Mix Spurs had come in the mail.  

After the adventure shows, we listened to some fun stuff like Fibber Magee and Molly, The Great Gildersleeve, Jack Benny, Duffy's Tavern, Our Miss Brooks, George Burns, Lum 'n' Abner and Amos 'n' Andy.

And, how about a detective or two?  Yours Truly, Johnny Dollar or Sam Spade, Nick Carter and Boston Blackie, The Thin Man and The Fat Man.

Later in the evening there was music - you could even understand the words back then.  There was Your Hit Parade (brought to you by Lucky Strike), The Chesterfield Supper Club, The Kraft Music Hall and during World War II there was Command Performance.  Are the memories coming back?

Return with me now   -   to those thrilling days of yesteryear.

This page was last updated on: May 4, 2016
"From out of the West comes America's famous fighting cowboy ---- Red Ryder"

This was the intro to the radio show featuring Red Ryder, his big black stallion, Thunder, and his Indian ward, Little Beaver.  The show was based on the comic strip by Fred Harman.  Red was played by Reed Hadley and later by Carlton KaDell and finally by Brooke Temple.  The part of Little Beaver was played by Tommy Cook and later by Henry Blair.

"Yes, your webmaster does have a Red Ryder BB Gun"

As in the comic strip, Red lived with his Aunt (The Duchess), his sidekick Buckskin, and his ward, Little Beaver.  For you trivia buffs - Red's ranch was located in the western settlement of Painted Valley.

......... "Who was that masked man?", asked the widow whose ranch had just been saved.  The sheriff replied, "Why don't you know......he's The Lone Ranger"

The sound of hoofbeats....and a booming "HI - YO, SILVER, AWA-A-Y"

This is your announcer saying don't forget to tune in "yesterday", boys and girls for another exciting adventure with ..... ..... well, who would you like to take you back?  

The Lone Ranger - Roy Rogers - The Shadow - Superman - Sam Spade - Nick Carter.

Or, maybe you'd just like to visit with the folks down the street - Fibber Magee and Molly - One Man's Family - Ma Perkins - The Great Gildersleeve - Amos & Andy - Lum & Abner - Our Gal Sunday

All were great friends to grow up with.  Thanks to recordings we can listen to them again and through the magic of our mind - return, if only for a few moments, to a time of heroes - a time when good winning out over evil was more exciting than "body count" - a time of respecting one another.

This website designed and maintained by

PHIL STALLINGS

MCHS Class of 1954

Friendsville, Illinois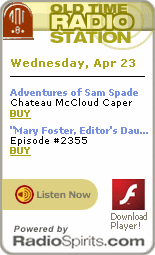 Playing: Red Ryder radio show 'intro'